The Dramatics: Up Close and Personal
Note: Please be patient, as the pictures on this page load. They are worth the wait. All pictures on this page were taken by me, so please do not take them and use them on other websites.
The Real Deal, "Whatcha See Is Whatcha Get" side of the Dramatics.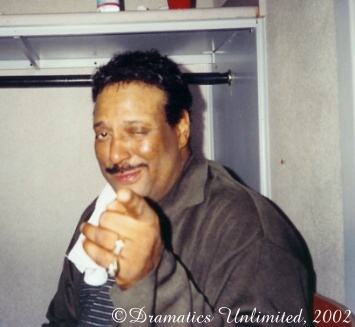 Ron Banks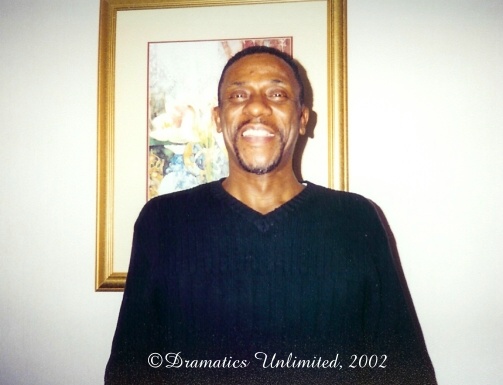 Willie Ford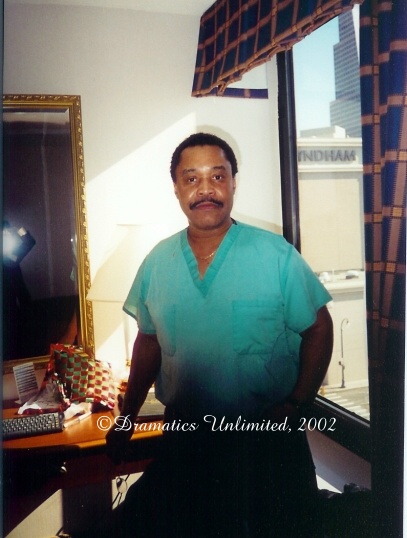 L.J. Reynolds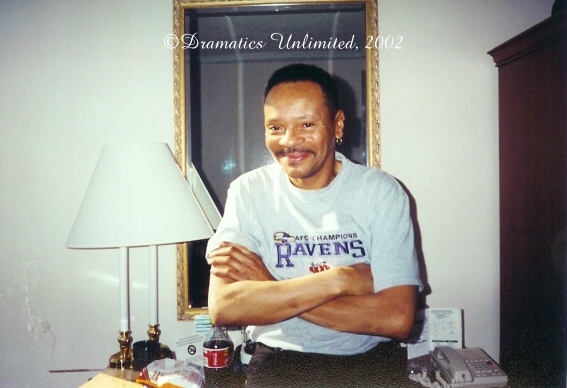 Lenny Mayes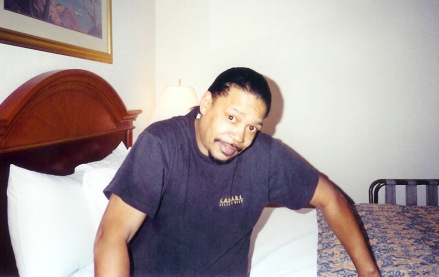 Winzell Kelly
It is a priviledge to have been able to interview five very wonderful and compassionate entertainers. The Dramatics are a one of a kind group, and each member is very special. I interviewed each of them individually. Read on to find out what they said.
Q: Is there anything that you would like your fans to know about you?
LJ: I'd like to thank my fans, and I'd like for them to know that we have a new single with Snoop Doggy Dog called "Ballin'", a new single with Corrupt, a "Greatest Hits Live" album, a Christmas album, and my solo album, "Love Is About To Start", which features a new version of "Key To the World", "I Didn't Mean To Hurt You", and "Silly". I'll also be doing another solo album.
Willie: I'm thankful for their support, I'm sensitive, I was born on July 10, but I'm not gonna tell you what year. (LOL)
Lenny: I want them to know that I love doing what I do, and that without them, there would be no me. They are as special to me as I am to them.
Winzell: I love em. I hear music all of the time.
Ron: I care about my fans, I want them to know that, I care about them sometimes even more than they do!
Q: Who will be doing the writing of the book and the movie?
L.J.: All of us will do our own version of reliving what we think happened, cause everybody has their own version of what happened. Kind of like when the Temptations movie came out, Otis Williams gave his concept. Well, what about Eddie Kendricks? What about Paul Williams? Melvin Franklin? What we saw was one fifth of what happened.
Q: Have you decided which actors will play you in the movie?
L.J.: Not really. I think they are still talking to people. But whoever plays me has to be handsome, young, and PRETTY! HAHAHAHA! It won't be easy! They gotta have a great big smile! Cuba Gooding, Jr. might be a good choice.
Willie: I haven't given it any thought.
Lenny: I have no idea, but to tell you the truth, I want to see them before they get approved. Do you have any idea as to who could play us?
Q: Well, you'd be pretty hard, you have such unique features, which is a good thing, of course. The guy who played Melvin on the Temptations movie might be able to play Willie.
Lenny: Oh yes, he'd make a good Willie. L.J. would be hard, though. He's a character!
Winzell: Shemar Moore from "Soul Train" could play me.
Q: Do you think that the upcoming movie will attract a new generation of Dramatics fans?
L.J.: I'm pretty sure it will. Did the same thing for the Temptations. I just hope it will be able to be done.
Willie: I believe so. We've broadened our audience by doing the Snoop Dog and Corrupt songs and the soundtrack for the Eddie Griffin movie.
Lenny: I hope so. I want to be portrayed as close to the truth as possible. I also hope it attracts up-and-coming artists.
Winzell: I really hope so. It will make the younger people realize what we had to go through.
Q: What are your favorite songs to perform LIVE?
L.J.: Stuff like "Beware Of the Man With the Candy In His Hand", "Be My Girl", "Can't Get Over You", a variety. I also like doing "Key To the World", but that's another story. I've done so many versions of that song. I recorded it about 6 times.
Willie: I like all of them. "Be My Girl", "Me and Mrs. Jones", "Whatcha See"...
Lenny: I knew you were gonna ask that! I was thinking what I was gonna say before you got here. "Whatcha See Is Whatcha Get", "In the Rain", "Be My Girl"...Lenny Mayes in DA HOUSE!
Winzell: I love singing all of them. I wrote songs for a lot of artists, and I've even got a solo album. As far as the stuff we do onstage, I guess I'd have to say "Thankful For Your Love", since I sang it. I'd love to do "Baby Boo"...I'd LOVE to do it LIVE! I wrote that one, "I'm So Alone", "All I Want For Christmas Is My Baby"...
Q: What is your favorite Dramatics song?
L.J.: "Be My Girl" or "Stop Your Weeping", which I wrote.
Willie: "Whatcha See Is Whatcha Get".
Lenny: Probably "I Cried All the Way Home".
Winzell: My favorite is "When Love Is Over and Gone".
Ron: I have a variety of favorite Dramatics songs that we've done over the years.
Q: Other than the Dramatics, of course, what other singers do you listen to?
L.J.: James Brown, the OJays, Aretha, the Temptations, David Ruffin...I don't know too much about the music of today. I'm from the old school!
Willie: Frank Sinatra, Nat King Cole, Take 6...I listen to a broad scope of music. I listen to elevator music, classics, jazz...Jazz soothes my mind and soul.
Lenny: I don't usually play music in my house, but I like Marvin Gaye, Peabo Bryson, the Whispers, and the Temptations.
Winzell: I like Ginuwine, Chante, Toni Braxton, Dave Hollister, Jeffrey Osbourne, B2K, JaRule. I listen to a lot of rap...I'm the gansta of the group, I'm just real.
Q: Are there any songs that you don't or didn't let your kids listen to?
L.J.: I have a daughter that's thirty-four, a son that's twenty-two, a son that's fourteen, and a twelve year old daughter. My kids keep up with my music, and I've never played any of our rap stuff for them, but I haven't kept it from them. I'm not too proud of some of it, but it's just business.
Willie: I haven't had too much success in stopping my kids from listening to what they want. I have a daughter who's sixteen, and although she's a minor, at sixteen, she should be able to make her own decisions. When you try to hide it from them, it just gets worse, cuz they'll listen to it anyway.
Winzell: I don't have the chance to tell my kids what not to listen to...their mom does that! IThey listen to what everyone else listens to, and it affects them the way it affects everyone else, they hear the words that ain't supposed to be there, they hear the 'beeps'. If you tell them don't, they are gonna sneak and do it, so I explain to them so they can know constructively and they can understand it and take it further.
Q: While most groups have either disbanded or gone through so many lineup changes, I think it's amazing that you guys have stayed together for so many years. What's your secret?
L.J.: House notes, car notes! We watch different groups that do that, and they end up falling by the wayside. So I think it's combination of the fact that we do like each other and we understand that the Dramatics is basically the foundation for financial support. And even though I have a pretty lucrative solo career, I can always fall back on the Dramatics to pay my house note, my car note...HAHAHA! If I hadn't been with the Dramatics, I'd have been a big fan of the Dramatics, kind of like I am with the Temptations, I'd have been a big Dramatics fan. And I'm still a fan, even though I sing with them. I play a lot of Dramatic records. I have a bunch of tapes in my bag that I take with me and play up and down the highway.
Willie: There is no secret. It's the love we have for one another. We realized that we're better together than apart.
Lenny: And hatin' every minute of it! Naw, I'm just playing. I think the secret to it is...we realized that we are all grown men and we respect each other's opinions and we respect each other.
Winzell: There have been some changes, but they were all done quietly. Ron was in the group since the beginning, along with Squirrel. Then the next big change came when Willie and Wee Gee came into the group, then Lenny and L.J. came together. Then there was the guy who's with the Temptations now, Bo, then a guy named Craig, then a guy named Steve, and finally me. I've been here for ten years, going on eleven, and I've been here longer than any of those other guys I mentioned. I hold the position that Squirrel held.
Ron: The Dramatics, we were always the rebels of the music industry. Being from Detroit, we were one of the few groups that didn't sign with Motown. Instead, we signed with Stax, which was the alternative. And in those days, two groups didn't do an album together. You know how some rappers these days will go and cut an album together, it didn't happen before. But we came out with an album called "The Dells vs. The Dramatics". We would do what other groups wouldn't.
Q: Are there any upcoming projects?
L.J.: I plan on doing another album, and I plan to do a play, I've never done plays before because a lot of the entertainers that do plays get underpaid. But I might do a play, I plan to also produce a movie...I'd like to get into film, and I'm waiting to get the urge to write a new album. Sometimes I write when I have to, but I prefer to write when it comes to me. Just like when I wrote "Key To the World", somebody asked me how did I write "Key to the world", I was in my living room or my kitchen, and I said, I need to write a song that the whole world understands. That's the "key", that's how "Key To the World" came about.
Willie: Not at the moment. I do a little bit of real estate, and my wife, Taleda, and I are going to get into adult foster care.
Winzell: I have a solo album coming out, it's called "Just Me". It was called "The Other Side of Drama", but I didn't want people to think that there are four other guys singing with me. It's "Just Me". It should be out by March or April.
Q: L.J., when you wrote "Got My Pride", did you write it because you had to?
L.J.: Naw, I wrote that song for Ron. At the time, Ron was going through some changes, and initially, he was supposed to sing the song. But he was under so much pressure and stuff, and I said, "Hey Ron, you got a lot of pride." And when I said that, that became the song that I wrote for him. So I wrote the song, and unfortunately, he couldn't bring the muscle up to sing it, so I put a vocal on there, just to show him how it goes, and I just kept it like that and added on to it. I like "I Got My Pride".
Q: Lenny, do you do medical transcripts? Is it a profession or a hobby?
Lenny: Yeah...actually, my girlfriend's mother owns a transcription company. And she does transcription for the company. And so, when I was in school, I had already learned how to type. And when they had openings for that job, and you know that on the weeks that we are off, and we are usually off during the week, I figured I'd find me something to do and make a little money at the same time! So yes, it's a profession. When I'm off the road, that's what I do at home.
Q: You type from home?
Lenny: Yeah, it all comes from home, then we send it to the hospitals. I do it all from my den. So all I gotta do is get out of bed and go straight to my den and sit and work for four or five hours.
Q: What are your hobbies?
L.J.: Rollerskating, I used to be able to roller-skate, playing instruments, I play several instruments, including the piano, keyboard, bass...I'm playing bass on a couple of songs that I wrote. I used to be able to play golf. But I don't have much time for hobbies. My whole life is about music.
Willie: Bowling...I mostly dedicate my time to my kids and grandkids. I have six children.
Lenny: Actually, I wouldn't call it a hobby, but taking care of my daughter is one of my main priorites. I got an eight year old daughter. So that's basically what I do, I'm basically a homebody. I'm engaged. Usually, I basically stay at home, doing a little pilling around the house, and taking care of my daughter, and my mom's not been feeling too well. I spend a lot of time with my mother, who lives about five minutes away by car. So I spend most of my time around my family, doing the medical transcription, and watching sports.
Winzell: My hobbies are working in the studio and sports.
Q: Would you be able to provide the fans with a tour schedule?
L.J.: We'll be touring in February, with the 70s Soul Jam. But right now, I don't have an actual tour schedule with me.
Q: What plans do you have for an official website, if any?
L.J.: I've been thinking of putting an ultimate website together. It will be the Ultimate Dramatics website.
Winzell: I'm also going to be doing a website for myself. Of course, it's going to have some Dramatics stuff on it as well.
Q: The five of you are very fashionable men. What is your offstage style? Are there certain brands of clothing that you like to wear?
L.J.: Offstage, I just wear anything. Old clothes, whatever. I don't go shopping, because everytime I go to the mall, people are always stopping me, saying, "Are you L.J. of the Dramatics?" So I get my clothes made for me.
Willie: My offstage style is comfort. I like to be comfortable. Nothing excessive. Suits, jackets, anything comfortable. I also like comfortable shoes. I probably spend more money on shoes than anything else. I'm not into fashion that much. I don't wear Phat Farm or Rockawear or stuff like that.
Lenny: I have several styles. I love to dress up! I just like dressing. Sometimes I like to dress up, really dress up, and sometimes I like to wear sweaters and slacks, or stuff like I'm wearing now, just to bum around in. I just like whatever looks nice, sometimes I wear designer clothes but I don't buy everything designer.
Winzell: I want to be comfortable, but not sloppy. It depends on my mood. Sometimes I go and dress like a gangsta. Sometimes I go and dress like a college kid. Sometimes I might wear a suit. Just like my hair changes, I change. I like a lot of brands, sometimes I go for the traditional stuff, sometimes I go for the new brands...I like FUBU, Rockawear, Timberland, I like gators...I love shoes. I like something that's gonna make me individual.
Q: Have you ever designed any of your own costumes?
L.J.: Never! I've gotten with designers and told them a few things, but I've never designed an actual costume.
Willie: Years ago. I did that one when we first started out, the suits where everyone would wear a different color.
Lenny: Yes, about 3 or 4. Recently, I designed those green outfits, the shiny ones. I wanted more stuff on the outfits that they didn't put on there, though.
Winzell: Yes, Ron and I designed those blue outfits with the gold braid.
Q: Lenny and Willie, are you planning on writing and producing some songs of your own?
Willie: Yes, I've written several that I'm anxious to finish. I've done several gospel stuff and I want to record a gospel album...a solo album.
Lenny: Yes, but my main interest is in real estate. I also sell houses.
Q: Will there ever be an album in which all of the songs are written and produced by the Dramatics only?
L.J.: Well, there are several albums that are produced by Ron and myself only. But I've grown tired of trying to do a whole project like that.
Lenny: There might be a project like that in the future.
Winzell: I hope so, but I'd like for the Dramatics to do an album by somebody else who's popular in the music industry right now, where we don't make up none of the songs on the album.
Q: What are your favorite foods? I read about some of your favorite foods in a tourbook, but I want to make sure they are accurate.
Winzell: I love steak and potatoes! Baked potatoes with lots of butter! And L.J. likes ribs, Lenny likes seafood...Ron likes fried chicken...well, Ron likes to eat a lot of things.
This interview was conducted on December 28, 2002. I'd like to thank each and every one of the Dramatics for taking the time out to do this interview, and to those of you who helped me to set it up.