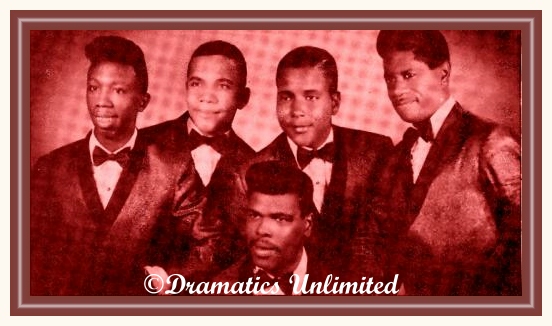 The very first lineup of Dramatics. From left to right: Larry "Squirrel" Demps, Elbert Wilkins (Al), Ron Banks, Larry Reed. Bottom: Roderick Davis.
The Dramatics have been a group for over twenty five years. So it's no surprise to discover that there have been a few personnel changes. No, not like the Temptations. There is more than one member of the "classic Dramatics lineup" still in the group. After reading this page, you will most likely be able to identify each of the Dramatics, past and present.
Ron Banks

1962-present

Larry Demps

1962-1981

Larry Reed

1962-1968

Roderick Davis

1962-1968

Robert Ellington

Elbert Wilkins

1962-1973

Willie Lee Ford

1968-present

William Howard

1968-1973;

1986-1989

L.J. Reynolds

1973-1981;

1986-present

Lenny Mayes

1973-present

Barrington Henderson

1981

Craig Jones

1981-1982

Steve Barnett-Boyd

1989-1994

Winzell Kelly

1994-present

Pictures 1, 7, 9, 10, 12, 13 courtesy of "Sis".